Whether you want your spa to be quietly secluded or the focal point of your outdoor space, these backyard hot tub ideas will help realize your dreams.
Ranging from planting inspiration, practical landscaping tricks to ways of keeping your tub safe and protected, these expert-backed tips are the perfect project starting point. After all, hot tubs are an expensive investment, so the last thing you want is for them to ruin the look of your backyard or prove awkward and impractical to use.
Whether you prefer the look of above ground hot tubs, sunken or flush-fitted products, there's something to suit. No matter what your needs, location or preferred sense of style, there's plenty to kickstart your plot's transformation.
11 Backyard Hot Tub Ideas That Experts Recommend
'Incorporating a hot tub into your outdoor space can be a game-changer, providing you with a relaxing retreat in your backyard,' says Jonathan Ames, lead landscape designer at Backyard.
Give one of these hot tub ideas a go and enjoy your very own spa experience at home.
1. Nestle A Hot Tub Amongst Planting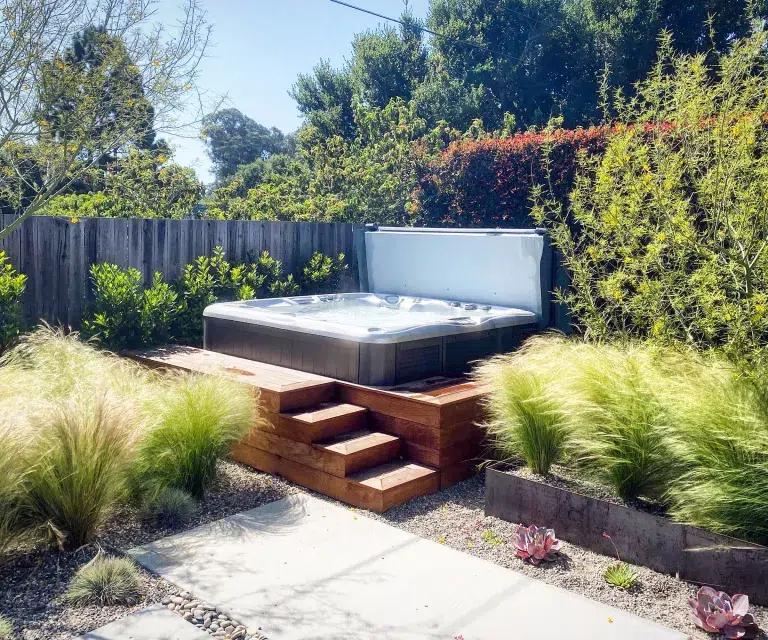 Whatever size your backyard, surrounding your hot tub with tactile planting will instantly create a relaxing and laidback feel, helping you to make the most of a restful soak.
Joe Bolger, General Manager at Gordon & Grant Hot Tubs and Spas explains how this pool landscaping idea was achieved in a recent project. 'Here a Sundance Cameo spa set has been set within an ipe deck. The ipe wood and the surrounding ornamental grasses soften the look of the concrete hardscaping, making the spa area the most inviting corner of the yard.'
While soft and feathery Mexican feathergrass and festuca glauca blur the edges of the deck and tub, integrating it with the rest of the landscaped yard, there's another design factor that enables the square design to appear so at home.
'Mimicking the square shape of the hot tub in your landscaping can create a cohesive and minimalist feel that quietly says "peace-of-mind", explains Bill Bell, President of Buds Spas and Pools. Opportunities to do just this range from constructing cube-shaped raised beds, chunky timber sleeper steps and decks, expansive square pavers, porcelain tiles or patios. Just make sure to emphasize their shape and proportions with adjacent contrasting materials or standout planting.
2. Add Drama With A Deck And Pergola Combo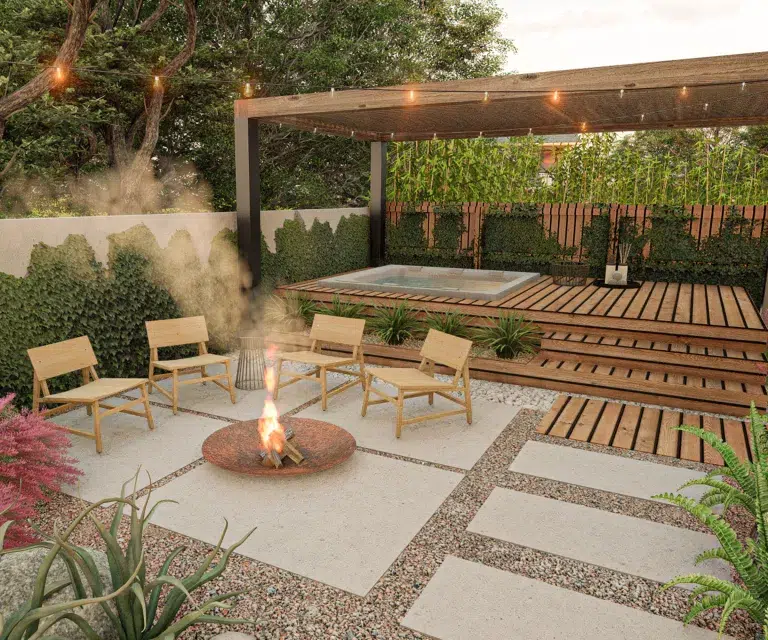 'Hot tubs are a great way to add relaxation and luxury to your outdoor space,' says Jonathan Ames from Bacqyard. 'It's essential to consider the location. A hot tub should be placed in a spot that offers both privacy and easy access. Adding a cover overhead, like a pergola or a gazebo, can provide both backyard privacy for your hot tub plus shelter from the elements.' Visually, this is also a great way to frame the feature and heighten the sense of drama around the bathing space.
Whether you take a bespoke or off-the-peg approach, choosing the right material for your site is key. Sturdy timbers such as oak, Western red cedar and redwood all have a warm, reassuring quality and will weather beautifully over time. Easy to work and erect, the timber can be matched to a surrounding deck or even the hot tub itself, for an elegant and cohesive finish.
There are a huge number of sleek and contemporary aluminium patio covers to choose from too. Available in a wide range of finishes – from smooth powder-coated colors to uber-realistic wood grains. Neutral tones along with deep charcoal are currently the most popular. Finishes can be mixed to highlight key features such as overhead rotating louvres or retractable side walls, or even paired with glass panels to maximize views and natural light.
3. Take A Natural Approach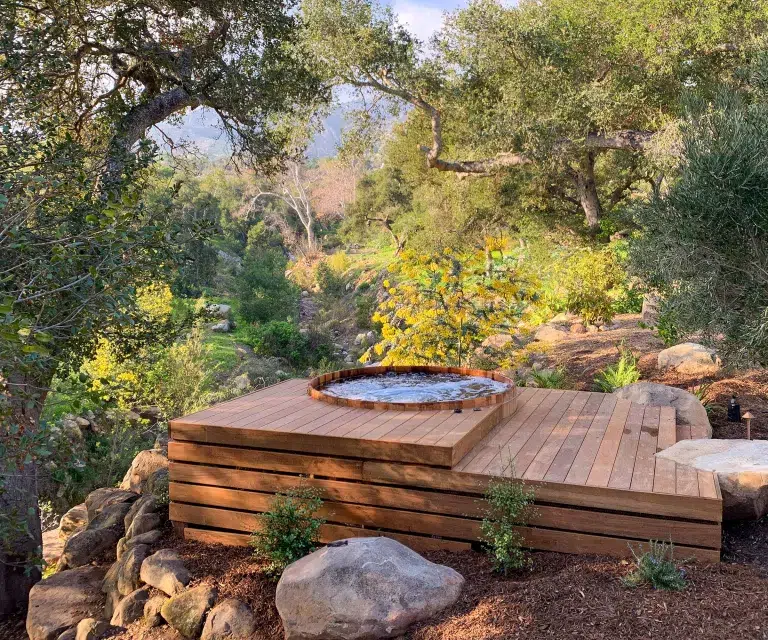 Make the most of a stunning view or location by letting the setting and natural surrounding guide your installation and design. Tubs recessed into wooden hot tub decks are ideal for grounding this substantial feature in amongst otherwise untouched terrain.
Wooden hot tubs are more sympathetic with coastal backyards and wilder locations than hot tubs with fibreglass, acrylic or rotomolded plastic shells. There are a few timber choices when it comes to hot tub construction, each with their own characteristics and qualities. Cedars such as Alaskan Yellow and Western Red are light and soft yet have a dense grain with good insulating properties and natural phenol preservatives. Larch is another particularly beautiful option, light brown in color it is exceptionally hardwearing and naturally resistant to insects and rot. Siberian spruce and oak are also popular but do require regular upkeep and sealing.
'We made this custom 8ft cedar hot tub in our Santa Barbara wood shop,' says Joe Bolger of Gordon & Grant Hot Tubs and Spas. 'This incredible backyard would make anything look good, but you can see why the client chose a wooden hot tub and deck to accompany the river rocks and native trees. A natural serene look that's simply stunning.'
4. Enhance Your Outdoor Spa With Hard Landscaping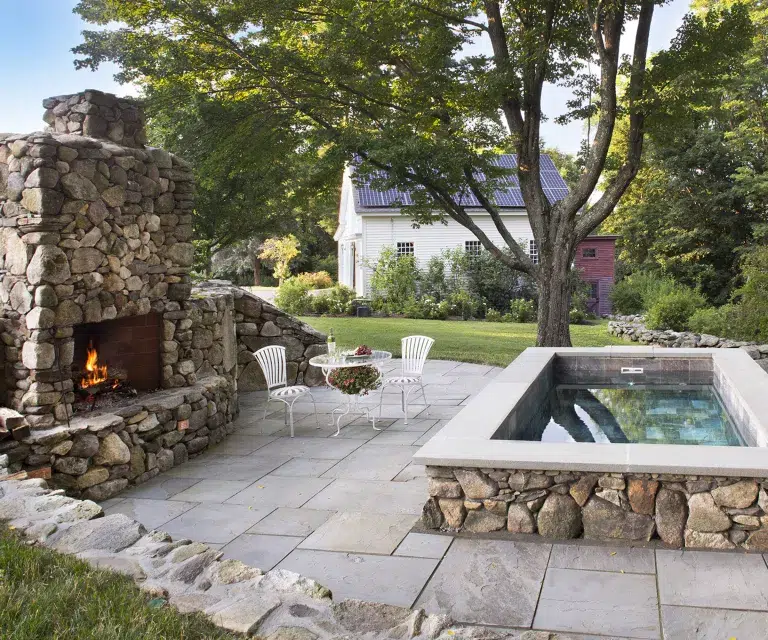 Taking time to plan and thoroughly prepare the position and setting of your bathing space is essential to making the whole experience enjoyable and effective. Definitely a job best left to the professionals, it's crucial that the surface for the tub is level and structurally strong enough to take the weight when full of water. It also helps to have an electrical hook-up and garden hose close by. But how many of us also pay attention to planning the surrounding backyard landscaping?
Karen Larson, co-founder of Soake Pools suggests that it can make all the difference to a pleasurable or poor experience. 'Tubs and plunge pools should be the focal point in the outdoor design, therefore creating a destination for gathering… people love to be in, on or around water!' she says. 'When creating an outdoor living space that includes a hot tub or a plunge pool, the best designs are those that provide adequate hardscape area for placement of chairs or fire pits, as well as an abundance of local plants that can soften and frame the space.'
Aim to leave around 4ft clear around all sides of the hot tub and place any electrical components least 5ft away. A common pool planning mistake is to forget about all the extras you may need, so bear this in mind for your hot tub space too. This could be access steps, a towel holder, space for storing any cover required, and maybe a bar or drinks trolley.
5. Grow A Dense Hedge For Privacy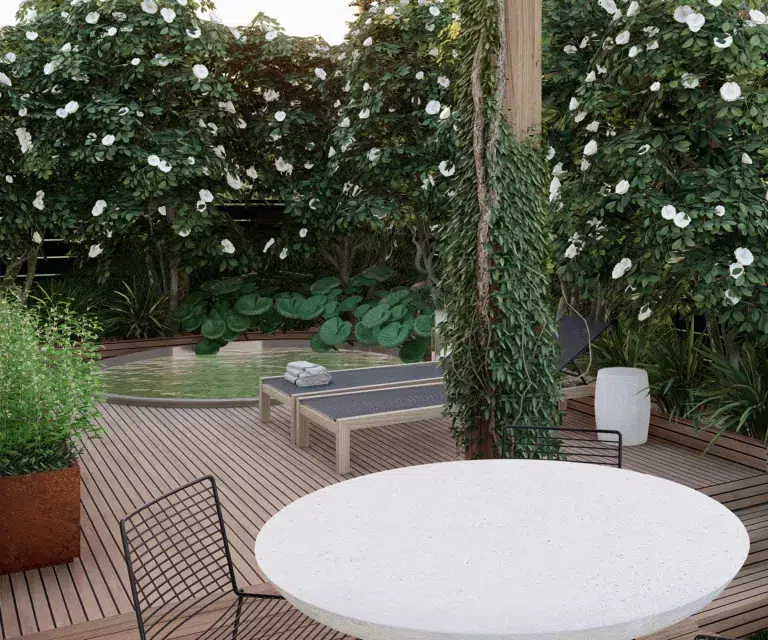 A touch of luxury and ideal for alleviating stress, a soak in a hot tub or backyard pool should be a soothing experience, but if your tub is bordered by passing traffic or noisy neighbors, chances are that's not the case.
Cultivating hedging plants is a highly effective and attractive way to screen a hot tub from view, plus you can enjoy the plants as they mature and, depending on the species, change throughout the season.
'Surrounding the hot tub with plants can provide privacy and natural beauty, creating a relaxing oasis in your backyard,' says Jonathan Ames. Not just for keeping out the neighbors, these leafy privacy plants can cut out traffic noise, unsightly views and unwanted distractions, helping you to relax in peace.
Dense, evergreen shrubs are best for training into a thick leafy barrier and depending on your locality, soil type and the space available there are plenty of charming candidates to choose from.
Japanese holly will happily thrive in poor soil, can tolerate drought conditions and produces small, waxy oval leaves, white flowers followed by glossy berries. USDA zones 5-9.
Mountain laurel is another tough but attractive candidate, with white and pink crinkled blooms in late spring, early summer set against dark green, leathery leaves. USDA zones 4a-9a.
English laurel is a fast-growing shrub perfect for evergreen hedging. Salt tolerant and tough even in drought conditions. USDA zones 6-9.
Box leaf honeysuckle produces a mass of dense lime green foliage. Perfect for trimming into neat hedges. Happy in partial sun or shade. USDA zones: 6-9.
6. Choose A Built-In Tub For A High-End Finish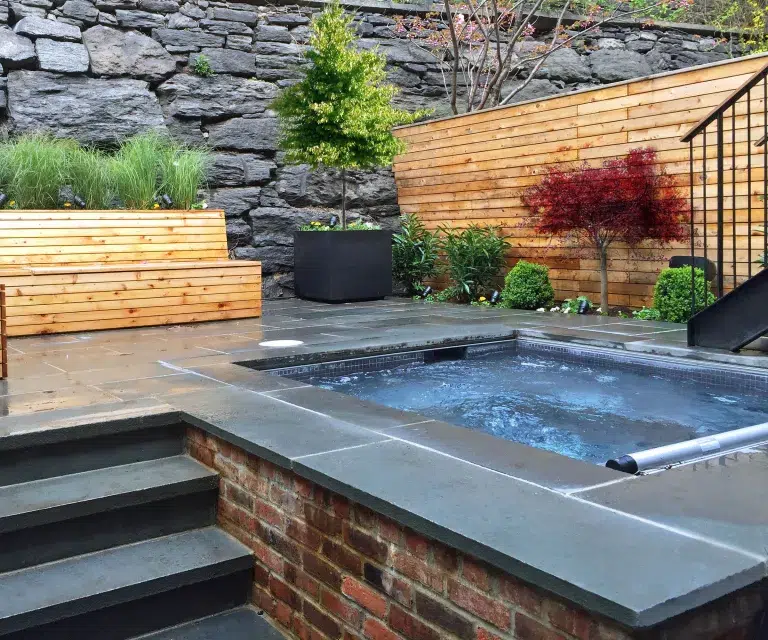 Built-in hot tubs are ideal for small backyards in urban areas. By concealing the tub and integrating the opening into hard landscaping, it's possible to create a cohesive design that also helps to make a small yard look bigger.
Designer Amber Scott Freda is a big fan of this approach. 'This Brooklyn backyard features a bluestone patio, horizontal knotty cedar fencing, a custom L-shaped sectional bench, a built-in jacuzzi, and contemporary plantings. A built-in jacuzzi is a great alternative to a pre-fab unit. It looks very high-end, and it doesn't require craning it over the brownstone to get it into the backyard, which would cost thousands of dollars and require permits.'
To complete the project, planting included a European hornbeam tree in a black fiberglass cube container, a red weeping Japanese maple, maiden grasses, schip cherry laurels, and boxwoods.
7. Blend Your Hot Tub Into Your Yard's Overall Design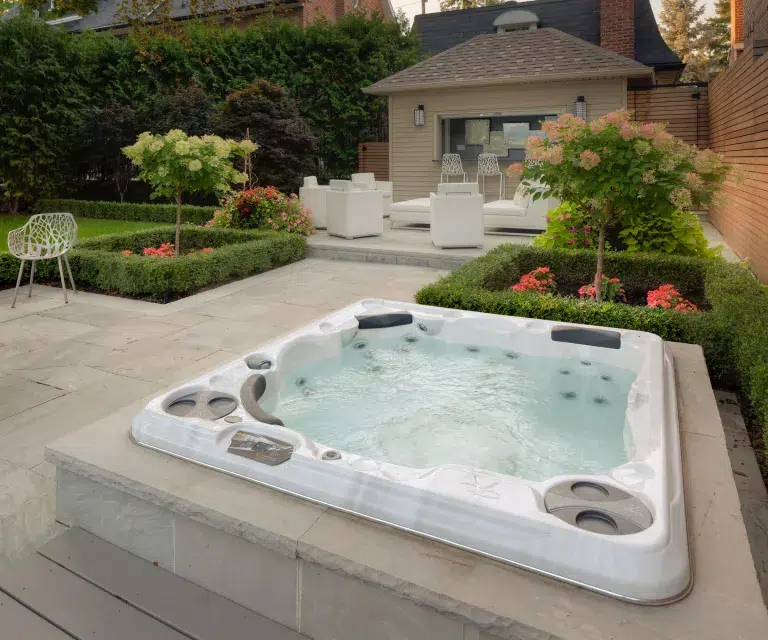 Aim to give your backyard a classy finish by incorporating a hot tub into the hard landscaping. Continuing the patio flooring or paving up the sides of the tub visually blurs any awkward joins and changes in height, providing a relaxed and uninterrupted view across the yard.
'Sunken hot tubs are some of our most dramatic hot tub applications. But what's below the surface might surprise you,' says Doug Gillespie, Vice-President of marketing at Hydropool Hot Tubs and Swims Spas. 'Take, for instance, the built-out stone area around the sunken hot tub shown. While the stone is beautiful, it's also purposeful, as it is ultimately designed to allow access around the hot tub below ground. If the raised stone area wasn't there, you'd see what looks like a moat surrounding the hot tub. That is built so you have sufficient space to hold electrical wiring and to ensure any future maintenance is possible without having to remove the hot tub from the ground.
'We generally recommend allowing for two to three feet of access around any sunken hot tub. Top-mounted controls make operating Hydropool hot tubs a breeze, which further simplifies this type of application. Having the hot tub in the ground removes the need for any stairs, allowing you to gracefully slip into the water, any time you want.'
8. Try A Portable Hot Tub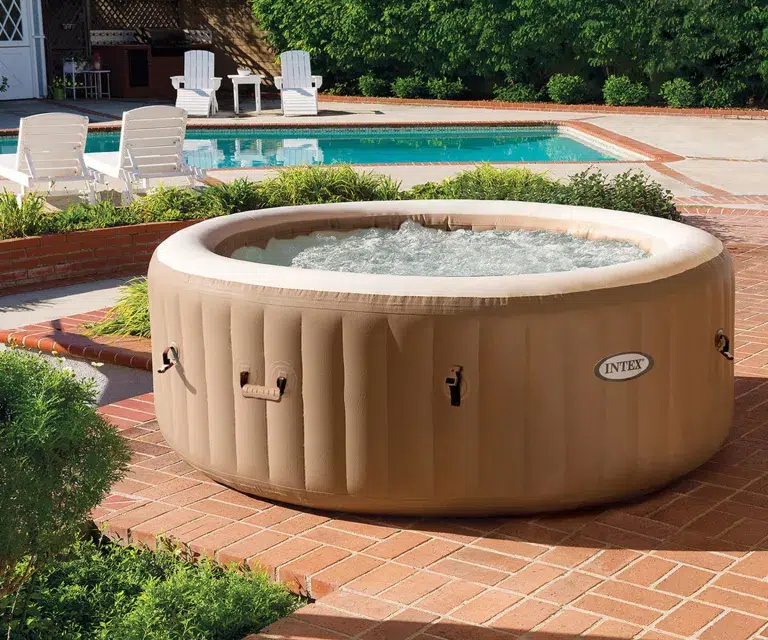 Hot tubs are a considerable investment. Not just to purchase and install, but also to make adjustments to your yard so they can be accommodated in style. If you are unsure whether to add this lifestyle feature to your yard, then take a tip from Lisa Cheatham, Category Director of pool/hot tub lifestyle products at Leslie's. 'Try an inflatable hot tub first – they are a less expensive approach to trying out the hot tub lifestyle as they cost between $300-$1,200 compared to $3,000-$15,000 for hard-sided versions, and you can test out various locations around your backyard before committing with a more permanent hard-sided hot tub option.
'These portable versions are now more durable than ever and are the perfect entrance point solution to try out hot tubbing. Some even come with a carrying bag, so that you can transport the hot tub to a different location in your yard, a vacation spot or another home.'
Setting up an inflatable tub such as the highly rated Bestway SaluSpa Miami from Amazon within your yard or on a pool patio requires the same level and stable surface as any hot tub, but it's worth knowing a little more about the installation process before you buy.
The team at Leslie's continues, 'For the more plug-and-play portable inflatable hot tub you may find fewer requirements but may need a little help from a licensed electrician. There may be certain zoning guidelines on distances from property lines when you go to place the hot tub in your yard. Again, check your local laws just to be sure as nothing's more disappointing than a deinstall/reinstall or adjustments, which can add more cost.'
9. Build Storage Into Your Tub Installation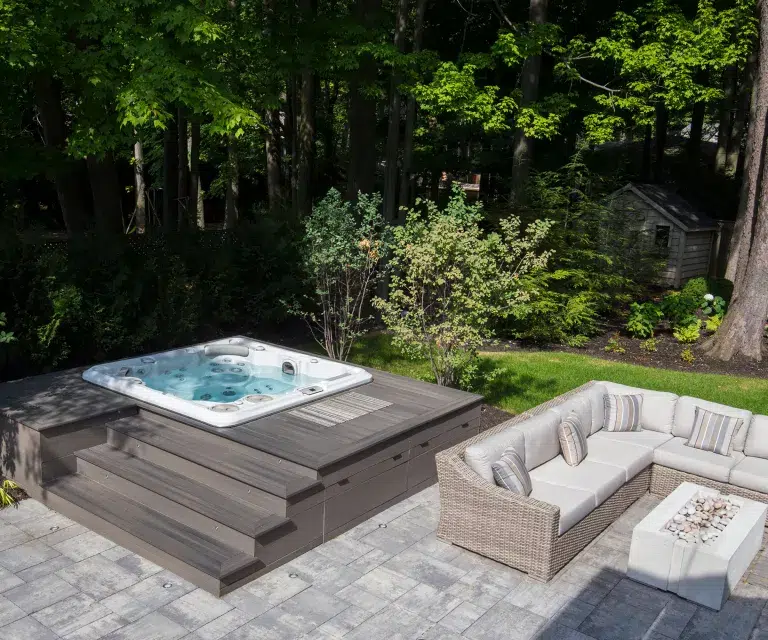 If you are building a raised pool deck to house an above-ground tub or swim spa, make the most of the opportunity and add in plenty of compartments to stash away spa-time essentials.
'It's much easier to install a hot tub on a cement pad, or any strong, flat surface, above ground,' explains Doug Gillespie. 'We often encourage the focus of any design to ensure the hot tub is built to blend into its surroundings and here you see incorporated decking steps and drawers for storage, which are all designed to be highly functional, as well as beautiful.'
10. Create A Tropical-Inspired Space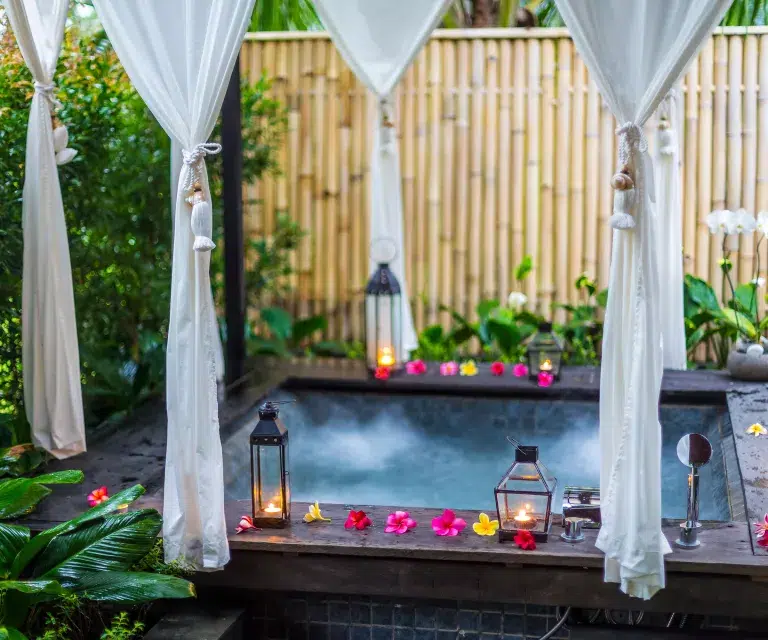 Want to create the look and feel of an exotic tropical garden with your outdoor spa area? Then take a tip from many Indonesian retreats and blend dark hardwood tones, draped linens and surround with plenty of lush planting.
A simple dark wood frame standing over the tub is perfect for hanging fine cotton or voile curtains to provide you with some instant privacy. Go for natural or bleached fabrics to keep the look pure, pared back and holistic, but up the luxe factor of your patio privacy ideas with details such as tasselled tie-backs or simple braids.
Flickering pool lighting and vivid blooms – think day lilies, gardenia, hibiscus and frangipani – all set against a backdrop of bamboo screening are the perfect combination. To complete the mood, add in plenty of irresistible glossy foliage.
Your local climate will narrow down the plants you can successfully grow outside, but there are plenty of interesting varieties to choose from for your hot tub patio plants. For warm, southern climes cannas, banana, elephant ears, mayapples and Indian rhubarb are all steady growers, producing masses of interesting, shaped leaves. In cooler, temperate areas you can cheat the tropical look and go for fatsia japonica, striking lingularia, Umbrella plant or sculptural Giant butterbur.
11. Clad Your Hot Tub With Natural Materials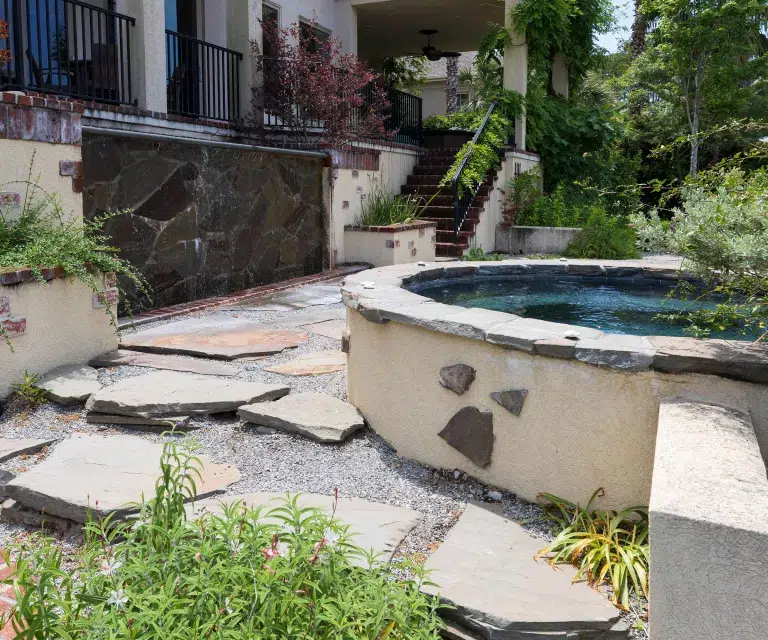 Water and stone always work well together, so explore different ways of landscaping with rocks, boulders, cobbles, gravel and scree to shape the area around your hot tub. Unless you are lucky enough to already have rocks and boulders on your plot, it's well worth investing in a few statement pieces of stone.
'Natural stone boulders can create beautiful focal points within your yard or outdoor space. When positioning your boulders, think about burying a small portion of the stone base beneath the ground to make them look "grown in" and natural,' says Giles Heap, MD of CED Stone. 'Natural stone transforms when wet, and this is no exception with boulders. No two boulders are ever the same, so we suggest that you take your time to pick one that's the right size, shape and color for your scheme.'
When it comes to positioning these hefty features in relation to the hot tub and immediate area, Rick Everett, designer at Kirman Design suggests, 'Study how boulders work in the wild. Flatter or smaller stones tend to be at the front with the larger ones at the back. If there are trees or plants, then the boulders need to work in height order with those too.'
Taking a cue from nature is also helpful when placing cobbles and gravel. Think about creating meandering pathways leading to and from the tub and filling in the gaps between slabs with fine aggregates and sprawling ground cover plants. Accommodate changes in level with thick or multiple slabs and disguise the sides of the hot tub with rendered walls and stone capping.
'As a landscaper and garden expert, I believe incorporating a hot tub or plunge pool into the garden is an excellent way to add a touch of luxury and relaxation,' says Lindsey Hyland, founder of Urban Organic Yield. 'I recommend utilizing natural stone tiles around the exterior of your hot tub if possible, this will help create a more cohesive look while also providing easy maintenance access points so that any issues can be quickly resolved.'
DO YOU NEED PERMISSION TO HAVE A HOT TUB IN YOUR YARD?
'Unfortunately, there is not one standard for pools and spas across the U.S. and municipalities and even Home Owner's Associations (HOAs) set localized laws and rules that dictate what's needed to install these units on your property,' say the team at Leslie's. 'Some locales require a permit, proper fencing, self-latching gates, drainage, certain code requirements for plumbing/electrical, etc. It's crucial to check with the municipality's building/construction resource or HOAs for guidance. It's always important to follow the manufacturer's installation instructions of the unit, along with the local requirements.'Dani Alexander, Principal at Studio AKA also adds, 'It's a great idea to review your local codes before taking on the design or installation of a hot tub. In some cases, you need to keep certain built items a specific distance away from property lines, and in some cases, they may also count towards your allowable lot coverage. Additionally, as many hot tubs require electrical and plumbing work, you will want to get approval to have that work done ahead of time.'
DO YOU NEED A FENCE AROUND YOUR HOT TUB?
Safety is of foremost importance when it comes to hot tubs, especially if you have children at home. The US CPSC (Consumer Product Safety Commission) has done extensive research on water safety at home and 'have concluded that one of the best ways for pool owners to reduce child drownings in residential pools is to construct and maintain barriers that will help prevent young children from gaining access to pools and spas.''Fencing is often required around hot tubs, but not always,' says Dani Alexander, Principal at Studio AKA. 'Spa covers may meet the safety requirements, but it does depend on local codes. At any rate, prioritizing safety will let you enjoy your hot tub without worry.'Pool fences should be located to prevent children from using permanent structures, equipment, or similar objects to climb the barriers. A barrier that completely surrounds the pool is better than a fence that encloses the pool on three sides with the house serving as the fourth side of the barrier. Fences should be a minimum of 4ft high. However, fences 5ft or higher are preferable.
---
Investing in a hot tub can be a wonderful way to enjoy spending more time outdoors throughout the year. Ideal for unwinding at the end of a long day at work, they can also help to ease aching muscles after exercise.
To get maximum enjoyment from your hot tub, don't forget to include some outdoor lighting, both for safety reasons and also to add to the overall atmosphere of your luxury backyard spa at night.