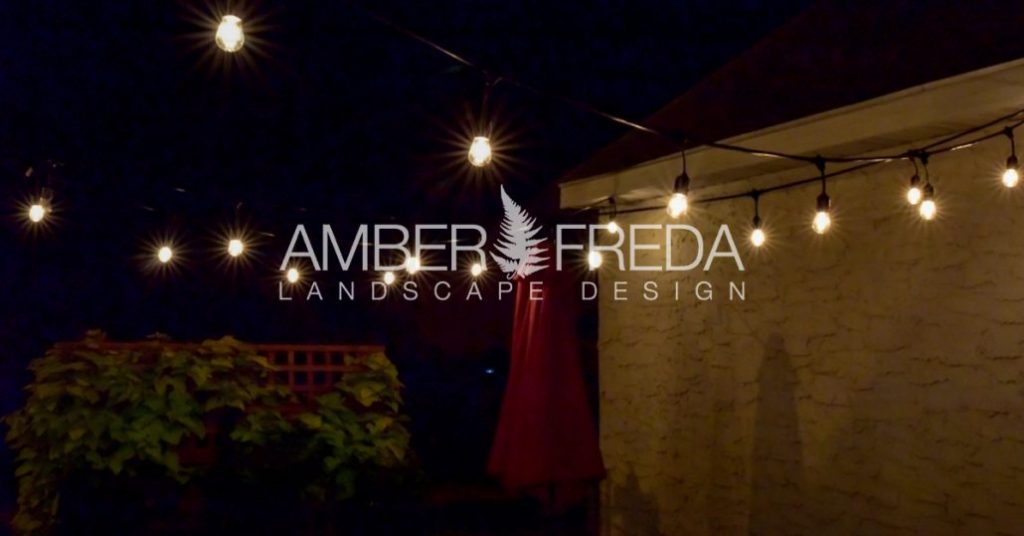 It can be difficult to find the right garden lighting. Obviously, you don't want something that's completely over the top. However, it would be nice to add some ambiance to your garden and even spotlight a particular area. It's important to know that there are some principles of good design for setting up your garden lighting. Here are some important tips to consider before you start purchasing lighting products:
Are You Interested in a Consultation? Click Here to Learn More
Overhead is typically best – Remember that natural light almost always comes from above. Taking that into account, most of your exterior lighting should come from overhead. Whether you choose outdoor solar lights or electric garden lights, the higher the better.

Use low wattage flood lights – Over the years, our NYC landscape design team has found that low wattage floodlights look best in and around gardens. Avoid any bulbs that are larger than 100 watts. It's also smart to consider low-voltage lighting for your project.

Use spotlights sparingly – It's tempting to want to use a number of spotlights. Take our word, though, when we say that spotlights should be limited to accent lighting only. Do you want to feature a specific scene or point out an interesting landscaping detail? Then a spotlight would make sense.

Pay attention to the maximum wattage bulb – A lot of people don't realize that a smaller bulb will get the job done. Believe it or not, the majority of LED garden lights put out plenty of light and are energy-efficient. The last thing you want is to go with a bunch of larger bulbs and see your utilities bill skyrocket in the process.

Be mindful of the location of the lights – It's probably not a good idea to have your landscape lights shining directly into your eyes. What's worse, though, is having them blind your neighbor. If you're at all concerned about brightness, take a walk around the space while the lights are on and double-check. It doesn't hurt, either, to chat with your neighbor about it.

Use several smaller lights as opposed to one large unit – Maybe you have a large flower bed or another planting area in the garden. With a feature such as this, our custom landscaping team recommends a few smaller lights. This creates softly overlapping pools of light that are free of any sort of harsh glare in the center. While this might seem trivial, it can make a significant difference.

Side lighting provides the best results – You may not achieve your desired look with front lighting. Most of the light in green spaces should come from the sides. By installing your lights on a side, you should be able to create a fun shadow effect. Don't hesitate to experiment with back lighting for interesting silhouette effects.

Know where you want the attention to be – Would you rather illuminate a comparatively solid object, such as a deck or patio, or a thin structure, such as a bare tree? We're guessing the deck or patio. Avoid putting your landscape lights just anywhere.

Select a focal point – Think about this for a moment: what exactly do you want to emphasize in your urban oasis? Whatever it is, point out its most attractive features with a spotlight or two. You can even have some light coming from an unusual angle.

Take advantage of light-colored reflective surfaces – Do you have light-colored walls or fences around your garden? Be sure to put them to use in your lighting scheme! The reflective surfaces can extend the source of lighting by diffusing the rays over a wide area.
High-End NYC Landscaper
Now that you have some additional knowledge on landscape lighting, what's the next step? Frankly, we recommend getting in touch with our NYC landscape design team. For years, Amber Freda has provided custom, detail-oriented landscaping services. Part of what separates Amber from a traditional garden design specialist is that she personally oversees the process from start to finish. So there's no need to worry about your project being handed over to a sales representative or a third party crew. Should you choose to work with our garden landscaping team, you can expect the result to look and feel like a natural extension of your home.
Let's get back to lighting for a moment. There's no question that the best garden design features the right lighting. At Amber Freda Landscape Design, we will recommend a number of lighting solutions, including the following:
Low-voltage lighting in the plants

Overhead globe lighting in pergolas and over patios

High-voltage wall sconces

Task lighting for outdoor kitchens

Fence lighting

And more
If you're looking to revamp your garden layout, then new lighting is a must. Amber Freda is ready to come up with a landscape plan that best fits your wants and needs. Get in touch with us today to schedule an initial consultation.