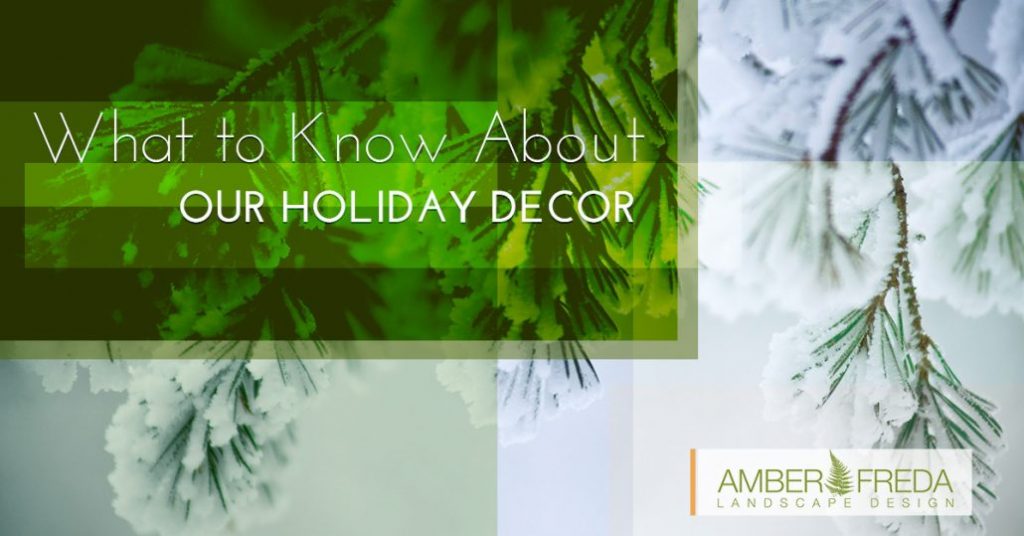 Is your home or business ready for the holiday season? With just a few weeks left until Christmas, time is running out to decorate. Not to worry, though! Amber Freda Landscape Design can take on your project with ease. Keep reading to learn more about our holiday and seasonal decor services.
White branches, red berries, and Magnolia leaves make beautiful additions to existing and newly potted evergreen plants. Of course, these all come together for eye-catching displays. Another route we can take is using fairy lighting to bring that magical feel to your garden throughout the holiday season. Keep in mind that fairy lights can be installed to suit your particular space and to complement the style and surroundings.
Now that you know what we offer during the holidays, why should you choose us? Here are five reasons:
Convenience

– Many people enjoy putting up Christmas lights. Some, however, find it to be a nuisance. From taking multiple trips to the store to re-checking every bulb if there's a problem, it can certainly be anything but easy. Then there's also the percentage of folks who would put up lights on their own, but just don't have the time. Whatever the case may be, Amber Freda Landscape Design can help. We will work with you in figuring out what you want and then schedule a day for setup/takedown. It's as easy as that!

Expertise

– Our custom landscaping company has taken off since being founded in 2004. Amber has taught countless garden design classes at both the New York and Brooklyn botanical gardens. She has been interviewed as a guest expert on the CBS New York Morning Show. Amber has even been featured in publications such as The New York Times, the Associated Press, Better Homes & Gardens, and HGTV. The likes of George Soros, Brett Icahn, and Joseph Edelman have all turned to Amber for her expertise. With such a lengthy achievement list, it's safe to say that Amber is a no-brainer for handling your Christmas lights.

Customer service

– There are plenty of businesses in Manhattan and throughout New York City that put up Christmas lights. But not many truly engage with their clients. Their focus tends to be on rushing through one job in order to get to the next. That's not how we do things at Amber Freda Landscape Design. Whether it's holiday lights/decor or one of our traditional landscape design services, know that that Amber will personally oversee the design of your project from start to finish. Never will we hand off your project to a sales representative or third-party installation crew.
Just because it's December doesn't mean you can't start thinking about a revamped landscape plan for your home or business. Our team helps clients achieve their dream outdoor space year-round.
In the meantime, we want to help you create a cheerful welcome for your loved ones this holiday season. Take your pick from beautiful wreaths, garlands, potted evergreens, and so much more.
Happy holidays from Amber Freda Landscape Design! Call now to schedule a consultation.