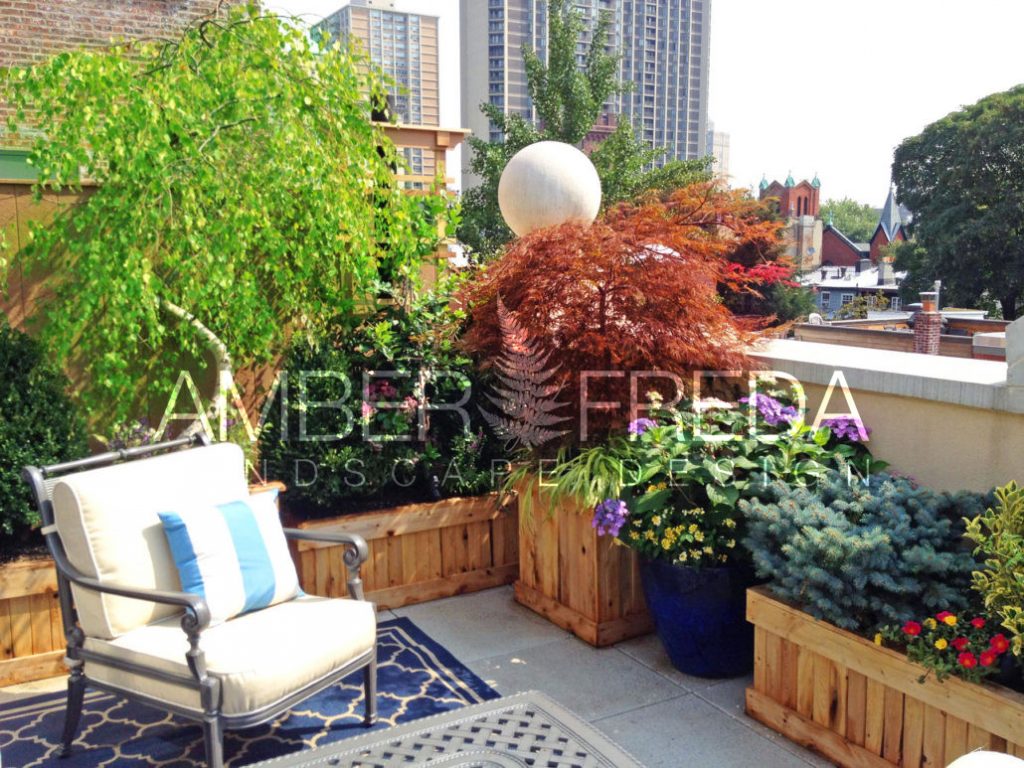 Anyone who has lived in the city knows it has its many advantages. City life offers luxurious living, modern amenities, delicious food, and a close proximity to entertainment and nightlife. However, most people will tell you the one thing city life is missing is personal outdoor space. Everyone doesn't have a patio, balcony, backyard or rooftop to call their own, and if they do, it's usually fairly small. Making the most a small outdoor city space is can be difficult for some. Fortunately, there are a lot of ways to turn any urban outdoor space into a charming oasis with lots of seating and plenty of fun colors. Each corner of the space should be carefully planned in order to make the most of it.
Start With Seating
Seating is necessary in any outdoor space. Sitting outside on a warm day with the sun on your face is wonderfully relaxing. For your small space, look for seating that can serve multiple purposes. For example, an ottoman can serve as both a place to sit and a place to put a tray down when serving food. Likewise, a bench can be used for both seating and storage. Overhead shelving can be used to help make use of the space in many ways. Strong shelving can be used as additional seating and storage space and then put away against the wall when not in use.
Flooring is Essential
Larger outdoor spaces usually have grass, but the flooring in smaller spaces varies, leaving room for more personalization. If the boundaries of the space aren't clear, you can help define the space with the use of a rug. Many modern outdoor rugs are soft underfoot, yet quite durable. A small rug can add lots of personality. Rugs can also help soften concrete, tile and brick so you can head outdoors in your bare feet. False grass can also be used to help create a soft green carpet. This is a great option if you have children.
Personalize the Details
Your outdoor space is an expansion of the existing decor in your home and continuing it outdoors. Personalize your space by adding details with a few well-chosen objects. For rooftops, installing a fountain or fire pit would be great focal point for your space that you and your guests can enjoy during different seasons. If you love to sit out at night, consider dangling light fixtures from the ceiling or having a lantern on a small table. If you just want to relax and read, install a hammock! The possibilities are endless to make a space you love.
Bringing in Color
Color is another way to make any outdoor space look fabulous. Make your space pop by decorating with colorful pottery, figurines, and plants. Adding rug and outdoor pillows with colorful shades and patterns make for both bright spaces and welcoming pizzazz.
Greenery is Great
Take advantage of the outdoors with many green elements. You can hang various plants from the ceilings and attach them to the railings. Surround your guests in lush greenery by enticing climbing plants like ivy to grow along the walls of the terrace. This can also help you add privacy. Take advantage of the changing seasons and use flowers to bring out different colors throughout the year.
No matter the size, you can create an outdoor space that you love. A well decorated space can be used for additional space at your next dinner party, or simply sitting outside with a great novel. You can have the outdoor space of your dreams with a few well-chosen details.

British Solomon is a contributing writer and media specialist for Jacksons Home & Garden. She regularly produces content for a variety of lifestyle and home décor blogs.