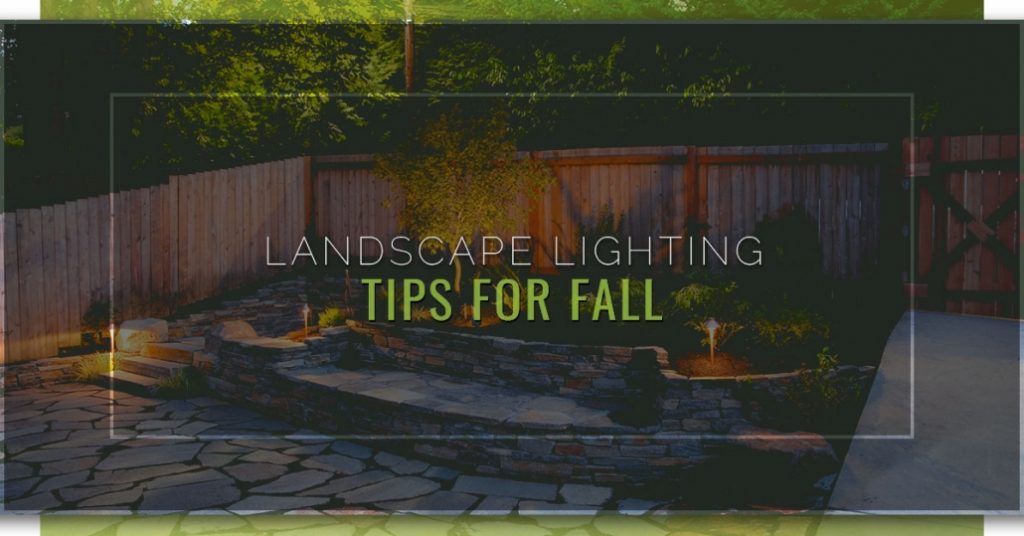 You want to get the most out of your urban oasis this fall. But with less natural sunlight to work with, it can be difficult to spend much time outside. That's why having the right landscape lighting is so important.
Here are some landscape lighting tips worth considering this time of year:
Create a guided path

– You obviously want to see where you're walking at night. Our landscape design team recommends creating some sort of path with lights. Not only will this prevent any unwanted falls, but it enhances the overall ambiance of the space.

Dim it down

– Speaking of ambiance, now is the time to adjust your lighting systems. Consider switching up the brightness and adding frosted lenses. Another idea is to disconnect or remove some fixtures to soften the light. Don't want your lighting highlighting the bare branches? Then lower the angle of the light so it illuminates the tree's trunk instead.

Make chilly nights warmer

– Wondering how to create a warm environment with your lighting? Believe it or not, it's actually easier than you might think. Start by adding uplighting and downlighting to the design. These elements alone can help you transform an outdoor entertaining space.

Set a new timer schedule

– Maybe you forgot to adjust your outdoor lighting timer after summer came to an end. Not a problem! The majority of timers are set to automatically turn on at dusk and off after a certain number of hours. Now that the days are becoming shorter, you will want to adjust your system accordingly. Ideally, you and your guests will never have to arrive at a dark space.

Perform annual maintenance

– This should be part of your autumn routine. So what exactly are you looking for? For one thing, inspect any exposed wire for damage. Other tasks include cleaning any accumulated debris from cabinet housing, replacing the battery, and adjusting fixtures. Taking the time to do all this not only sets you up nicely for fall but also the rest of the year and into next spring/summer.
Premier Landscape Design
New York City residents have relied on Amber Freda Landscape Design for more than a decade. We are here to help you get the most of your rooftop garden, regardless of the season. When it comes to lighting, our landscape designer can recommend various solutions.
This is where Amber sets herself apart from others in the industry. Unlike competitors who might take a 'cookie-cutter' or 'one-size-fits-all' approach, Amber creates a plan based on your space and needs. Rest assured that we have years of experience with the following lighting options:
Low-voltage up-lighting in plants

Overhead globe lighting in pergolas and over patios

High-voltage wall sconces

Floodlights

Task lighting for outdoor kitchens

Step light

Fence lighting
This fall, why not invest in a beautiful, functional rooftop or common space garden from Amber? There's no question that the right designer makes a huge difference. Contact Amber Freda Landscape Design today.